PARASAİLİNG
Between May-October  Sales Area: Alanya, Side,Antalya,Kemer
Parasailing: A Thrilling Aerial Adventure Over Water
Imagine soaring high above the ocean, suspended in the air while being towed by a powerful vessel below. This is the exhilarating experience of parasailing, a water sport that combines the thrill of flight with the serenity of waterside views. As one of the most popular and captivating activities for adventure-seekers and water enthusiasts, parasailing offers a unique and memorable experience that allows participants to appreciate the beauty of coastal landscapes from a breathtaking new perspective.
The captivating allure of parasailing lies in the sensation of flying as the participant is towed aloft by a parasail, a specially designed parachute-like canopy. Typically launched from a boat or other watercraft, the parasail gradually ascends into the sky, providing an awe-inspiring view of the surrounding waters and coastline. Participants experience a blend of excitement, tranquility, and awe as they float through the air, gazing down at the picturesque scenery below.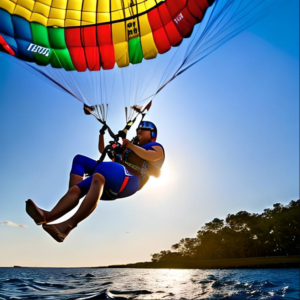 One of the most compelling aspects of parasailing is its accessibility to a wide range of individuals, including families, thrill-seekers, and those seeking a unique and unforgettable vacation experience. Unlike activities that require extensive training or physical prowess, parasailing offers a relatively simple and comfortable experience, allowing participants to enjoy the thrill of flight with minimal physical exertion or specialized skills.
Safety is a crucial aspect of parasailing, and operators prioritize the well-being of participants by adhering to stringent safety standards and guidelines. Prior to takeoff, participants receive thorough safety briefings and instructions from experienced professionals, ensuring a secure and enjoyable experience. Additionally, proper safety equipment, including harnesses and life jackets, is provided to all participants. This commitment to safety instills confidence in participants while allowing them to fully embrace the exhilaration of parasailing.
The allure of parasailing extends beyond just the thrill of flight. The experience of gently gliding through the sky above azure waters, with expansive views of the coastline and surrounding natural beauty, creates a sense of peace and serenity. From this vantage point, participants can admire the beauty of the ocean, the shoreline, and the natural landscape, resulting in a profound and memorable connection with the stunning environment around them. Parasailing provides a unique opportunity for participants to appreciate the majesty of the natural world from a truly extraordinary perspective.
The activity's versatility makes it an appealing choice for a variety of occasions, including family vacations, romantic getaways, and group adventures. Parasailing presents an ideal way to elevate a beachside excursion, offering a remarkable experience that creates lasting memories for participants of all ages. Whether enjoyed solo, with a partner, or as part of a group, the shared exhilaration and panoramic views create an unforgettable experience that brings people together and fosters a sense of wonder and excitement.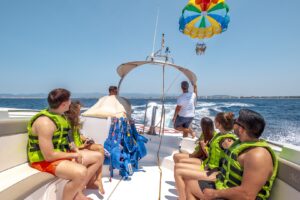 Parasailing has become an integral part of the recreational offerings in many coastal destinations, drawing visitors seeking a thrilling and memorable adventure. Beachfront resorts, water sports operators, and tour companies frequently offer parasailing as a highlight of their recreational activities, providing participants with an opportunity to experience the breathtaking beauty of the coastline from a perspective like no other. This widespread availability ensures that thrilling parasailing adventures are within reach for travelers seeking to add a touch of excitement to their beach vacations.
You make your own group for indelible flyboard jetski parasailing to remember with laughter all lifelong. We just promise you to organise the best water sports entertainment in the mediterranean. You arrive at your holiday resorts you determine the day and time which is fit with your holiday and group. We pick you up from your accommodation for our activities.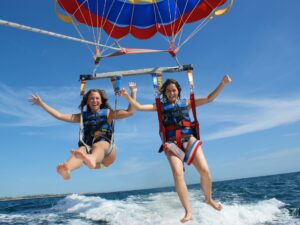 Transfer cost 10€.
Jetski: 60 € (15 min.)
Parasailing: 1 person 60 €, 2 person 70 €, 3 person 100 € (max 200 kilo)
(5 km. about 10-15 min.)
Banana: 20 € (5 km.)
Flyboard  150 €
       There will be price differences depends on season at the period of the season for exact information please contact by whats app.
We wish you unforgettable memories during your holiday in Alanya Turkey.
Ps: For more information you can also contact by whats app call or message.
Holiday Excursion Team ,