WATER SPORTS
Between May-October  Sales Area: Alanya, Side,Antalya,Kemer
Exploring the Thrills of Water sports in Alanya: A Paradise for Adventure Seekers
Alanya, a coastal gem located on Turkey's beautiful Mediterranean coastline, is a haven for water sports enthusiasts. With its stunning beaches, crystal clear waters, and perfect weather conditions, Alanya offers an array of exhilarating water sport activities that cater to both beginners and experienced adventure seekers. In this Holiday Excursion program, we will guide you through the exciting world of water sports in Alanya, high lighting some of the thrilling activities you can indulge in while visiting this paradise.
1. Jet Skiing:
One of the most popular water sports in Alanya is jet skiing. Experience the thrill of speeding across the waves as you navigate the stunning coastline. Whether you're a beginner or an adrenaline junkie, jet skiing in Alanya is an experience you won't soon forget.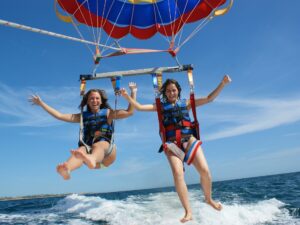 2. Parasailing:
If you're looking for an adrenaline-pumping water sports activity that offers breathtaking, panoramic views of the Alanya coastline, try parasailing. Soar above the azure waters and feel the rush of the wind as you're suspended high in the sky, attached to a parachute. It's a truly unforgettable experience.
3. Scuba Diving:
Alanya is a fantastic destination for scuba diving enthusiasts, with its vibrant marine life and stunning underwater landscapes. Explore the hidden depths of the Mediterranean, diving alongside colorful fish, turtles, and even the occasional dolphin. Whether you're a beginner or an experienced diver, Alanya offers a variety of dive sites suitable for all levels.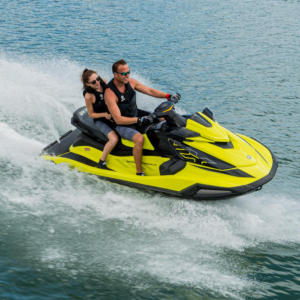 4. Stand-Up Paddleboarding (SUP):
For a more relaxed water sports experience, try stand-up paddle boarding (SUP). Glide across the calm waters and explore hidden caves and secluded coves. SUP is not only a great way to enjoy the beautiful coastline but also provides an excellent core workout.
5. Flyboarding:
Get a taste of the future with the exhilarating water sports  flyboarding. Strap on a water-propelled jetpack and soar above the water's surface, performing gravity-defying tricks and flips. Flyboarding combines the thrill of water sports with the sensation of flying, making it a must-try activity in Alanya.
6. Wakeboarding and Water Skiing:
Alanya's ideal weather conditions and calm waters make it perfect for wakeboarding and water skiing. Whether you're a seasoned pro or a beginner, strap on your board or skis and carve through the waves as you experience the rush of these popular water sports.
Alanya, with its stunning natural beauty, rich marine life, and perfect weather, is a water sports enthusiast's paradise. From high-speed jet skiing to the tranquility of paddleboarding, there is an activity to suit every thrill seeker. So, if you find yourself in this coastal gem, don't miss the opportunity to immerse yourself in the exhilarating world of watersports in Alanya. Prepare for unforgettable moments, stunning views, and memories that will last a lifetime.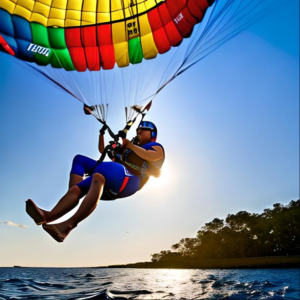 You make your own group for indelible flyboard jetski parasailing to remember with laughter all lifelong. We just promise you to organise the best water sports entertainment in the mediterranean. You arrive at your holiday resorts you determine the day and time which is fit with your holiday and group. We pick you up from your accommodation for our activities. Transfer cost 10€.
Jetski: 60 € (15 min.)
Parasailing: 1 person 60 €, 2 person 70 €, 3 person 100 € (max 200 kilo)
(5 km. about 10-15 min.)
Banana: 20 € (5 km.)
Flyboard  150 €
       There will be price differences depends on season at the period of the season for exact information please contact by whats app.
We wish you unforgettable memories during your holiday in Alanya Turkey.
Ps: For more information you can also contact by whats app call or message.
Holiday Excursion Team ,