DIVING TOUR
Dive into the Depths: Exploring Alanya's Diving Tour
Immerse yourself in the enchanting underwater world of Alanya by embarking on a thrilling diving tour. Situated along the stunning Mediterranean coast of Turkey, Alanya is a paradise for diving enthusiasts, offering an array of dive sites teeming with vibrant marine life, intriguing shipwrecks, and breathtaking underwater landscapes. In this Holiday Excursion tour, we will take you through the highlights and experiences you can expect on an unforgettable Alanya diving tour.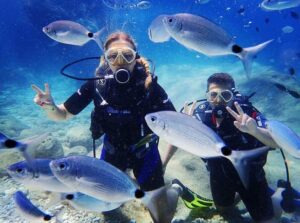 1. Discover the Rich Marine Life:
Alanya's crystal-clear waters are home to a diverse range of marine species. From fascinating creatures such as barracudas, groupers, octopuses, and even sea turtles, the underwater world of Alanya is a sight to behold. Whether you are a beginner or an experienced diver, Alanya diving tour will introduce you to a kaleidoscope of marine life, providing an opportunity to witness firsthand the beauty and biodiversity that thrives beneath the surface.
2. Explore Mesmerizing Dive Sites:
Alanya boasts numerous dive sites that cater to divers of all levels. One popular location is the Pirates Cave, where you can embark on an exhilarating underwater adventure. Dive into the cave's turquoise waters and marvel at the stunning rock formations, swim-throughs, and caverns adorned with colorful sponges and sea fans. Adrenaline junkies can explore the depths of the Tophane Reef, a dive site known for its underwater canyons and thrilling wall dives.
3. Dive into History: Shipwrecks and Ruins:
Alanya diving tour also offers the unique opportunity to explore submerged historical sites. Dive alongside sunken ships and witness their transformation into vibrant artificial reefs. The most notable shipwreck is the Russian fighter plane, located at depths ideal for divers of varying skill levels. Encrusted in coral and surrounded by marine life, these wrecks provide a fascinating glimpse into naval history while offering an unforgettable diving experience.
4. Dive Safely with Expert Guides:
Safety is paramount during any diving excursion, and Alanya diving tour ensures the highest standards. Experienced and professionally trained guides will accompany you throughout the journey, providing thorough briefings, equipment checks, and guidance underwater. Their expertise not only ensures your safety but also enhances the overall diving experience, as they share their knowledge of the local marine life and underwater terrain.
5. Scenic Boat Rides and Onboard Comfort:
Apart from the exhilarating dives, the Alanya diving tour includes scenic boat rides along the coastline. Relax and soak in the panoramic views of Alanya's enchanting beaches, cliffs, and castle as you travel between dive sites. The comfortable and well-equipped boats offer ample space to rest, socialize, and enjoy delicious snacks and refreshments, allowing you to unwind and fully appreciate the beauty of your surroundings.
An Alanya diving tour promises an unforgettable adventure that combines underwater exploration, vibrant marine life, and historical intrigue. Dive into the depths of the Mediterranean Sea, as you discover the hidden treasures beneath the surface, encounter exotic marine species, and witness the remnants of the past. With experienced guides ensuring your safety and comfort, your Alanya diving tour will be a mesmerizing and enriching experience that will leave you with memories to treasure for a lifetime.
ALANYA SCUBA DIVING TOUR  PROGRAM:
* Pick-up from hotels and apartments in Alanya, Arrive at the harbor
* Getting on the diving boat and start to sail
* Briefing about  diving, the boat routine, and the safety procedures by diving masters
* Divemaster makes the small groups ,The first dive
* Lunch on the boat , Relaxing, sunbathing, and snorkeling.
* Heading off for afternoon dive in another place and second dives start.
* Boat returns at the harbor , Dropping off at your hotels & apartments in Alanya
PRICE INCLUDES:
* Pick up/drop off from hotels and apartments in Alanya, Two times dives,
* Lunch (Grilled chicken, salads, rice ) ,Professionnel  guide, instructors
* All diving equipment
OPTIONAL EXTRAS:
* Drinks, Photos and video (in DVD or USB)
ADDITIONAL INFOS & TIPS:
* Changing cabins, restrooms, WC and showers are available on the diving yacht.
* Take swimming suits, towel, sun cream
* Those who never dive can join a Alanya diving tour without any worries. The majority of our participants are first-time divers.
* Those who do not want to dive but want to come with their families or friends can join the tour by paying only the boat tour fee.
* Non-swimmers can join the Alanya diving tour too.
* Pregnant women cannot participate in Alanya diving tour.
* We offer internationally recognized PADI, CMAS, TSSF course programs and give certificates to our guests upon request.
* Children who are over 10 years are allowed to dive.
The price includes transfer, insurance, equipment, lunch and tour service guide.
We wish you unforgettable memories during your holiday in Alanya Turkey.
Ps: For more information you can also contact by whats app call or message.
Holiday Excursion Team ,