MANAVGAT BOAT TOUR
Exploring the Beauty of Manavgat: A Captivating Boat Tour Experience
Nestled on the southern coast of Turkey, Manavgat is a picturesque town renowned for its natural beauty and rich cultural heritage. One of the best ways to discover the wonders of Manavgat is through a boat tour along the scenic Manavgat River. In this trip with Holiday Excursion, we invite you to embark on an adventure as we explore the captivating sights and experiences that await you on a Manavgat boat tour.
1. Cruising Along the Manavgat River
A Manavgat boat tour offers a tranquil and idyllic journey along the scenic Manavgat River, allowing you to soak in the breathtaking views of lush green landscapes and crystal-clear waters. As you glide through the gentle currents, you'll have the opportunity to marvel at the natural beauty that surrounds you, from towering trees and vibrant flora to diverse wildlife such as turtles and birds. The peaceful ambiance of the river creates a serene escape from the bustling city life, providing a perfect setting for relaxation and reflection.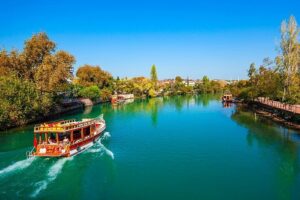 2. Visiting the Iconic Manavgat Waterfall
One of the main highlights of a Manavgat boat tour is a visit to the awe-inspiring Manavgat Waterfall. As you approach the waterfall, you'll hear the thundering sound of water crashing against the rocks, creating a mesmerizing spectacle. The sight of the cascading water, set against a backdrop of lush greenery, is nothing short of breathtaking. Take a moment to admire the beauty, feel the mist on your face, and capture the perfect photographs to preserve the memory of this natural wonder.
3. Exploring the Manavgat Bazaar and Mosque
Along the boat tour, you'll have the opportunity to explore the vibrant Manavgat Bazaar, a bustling marketplace that offers a delightful blend of local crafts, textiles, spices, and fresh produce. Immerse yourself in the vibrant atmosphere as you stroll through the colorful stalls and interact with friendly merchants who are eager to share their products and stories. Additionally, a visit to the grand Manavgat Mosque provides a glimpse into the town's religious and architectural heritage, with its impressive domes and intricate details.
4. Enjoying A Turkish Lunch Onboard
Indulging in delicious Turkish cuisine is a significant part of the Manavgat boat tour experience. Most boat tours include a delightful onboard lunch, allowing you to savor traditional Turkish dishes while enjoying panoramic views from the comfort of the boat. Feast on freshly prepared mezes, grilled kebabs, and flavorsome salads, accompanied by traditional Turkish bread and refreshing beverages. The combination of delectable food and stunning surroundings creates a truly unforgettable dining experience.
5. Swimming and Relaxing at Manavgat's Sandy Beaches:
Many boat tours also offer stops at secluded spots along the coastline, where you can anchor and enjoy some leisurely swimming in the azure waters of the Mediterranean Sea. Take a refreshing dip, snorkel amongst colorful marine life, or simply bask in the warm sun on the sandy beaches. These moments of relaxation and rejuvenation add an extra layer of bliss to your Manavgat boat tour, allowing you to connect with the natural splendor around you.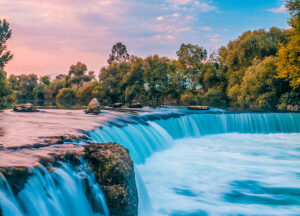 A Manavgat boat tour is an extraordinary way to discover the beauty and charm of this enchanting town. From cruising along the serene Manavgat River to visiting the breathtaking waterfall and immersing yourself in the vibrant local culture, every moment of the tour offers a mix of natural wonders and cultural experiences. Embark on this unforgettable journey and create memories that will last a lifetime, as you immerse yourself in the captivating ambiance of Manavgat's boat tour.
MANAVGAT BOAT TOUR  PROGRAMM:
* Pick-up from hotels and apartments in Alanya and around by bus
* Arrive at Manavgat town & harbor,4-hour boat tour on the Manavgat River.
* Swimming breaks (You can swim both in the sea and the river),Break for lunch on the boat
* Return to river harbor and get on the bus,visiting Manavgat mosque
* Visiting Manavgat waterfall,Manavgat local bazaar and free time
* Drop-off hotels/apartments in Alanya
PRICE INCLUDES:
* Pick up/drop off from hotels and apartments in Alanya and around
* Guide, Lunch,Manavgat waterfall entrance fee
OPTIONAL EXTRAS:
* Drinks, Photo, Dvd
ADDITIONAL INFO & TIPS:
* If you want to swim, Take your swimsuit, towel, suncream
* Manavgat boat and waterfall tour is organized on Mondays and Thursdays. Due to the market days in Manavgat town
* Take your mobile phone or camera with you
We wish you unforgettable memories during your holiday in  Turkey.
Ps: For more information you can also contact by whats app call or message.
Holiday Excursion Team ,