ALANYA  AQUAPARK TOUR
                    Family-Friendly Fun: Exploring Alanya's Aquapark Tour and More
When it comes to planning a family vacation, Alanya, Turkey, is the ideal destination. With its stunning Mediterranean coastline, historical sites, and abundance of family-friendly activities, Alanya offers something for everyone. In this Holiday Excursion tour, we will focus on one of the most exciting attractions for families – Alanya Aquapark Tour, along with other fantastic options that guarantee a fun-filled experience for all ages.
1. Alanya Aquapark Tour:
The Alanya Aquapark is a thrilling water park that promises a day of aquatic adventures and excitement. Here's what you can expect from this family-friendly attraction:
a) Waterslides and Pools:
The Aquapark features a wide range of water slides suitable for all ages and thrill levels. From gentle slopes for younger children to adrenaline-pumping, high-speed slides for teens and adults, there's something for everyone. With pools of various sizes and depths, families can relax and enjoy the refreshing water or splash around together.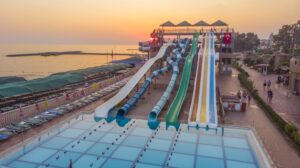 b) Lazy River and Wave Pool:
One of the highlights of the Aquapark is its lazy river. Grab a tube, sit back, and let the gentle current carry you around the park, providing a relaxing and enjoyable experience. The wave pool is another crowd-pleaser, providing the sensation of being in the ocean with its periodic surges of waves.
c) Children's Play Area:
The Aquapark caters to younger children with a dedicated play area featuring mini-slides, splash pools, and interactive water features. Parents can watch their little ones have a blast in a safe and supervised environment.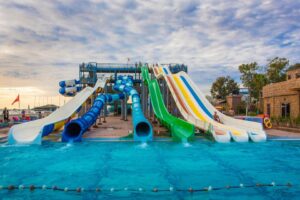 Alanya is a fantastic destination for a family vacation, offering a myriad of experiences for all ages. The Alanya Aquapark Tour provides endless fun and excitement with its exhilarating water slides, lazy river, and wave pool. From exploring historical sites to enjoying the beautiful beaches and taking in breathtaking views, Alanya offers a diverse range of family-friendly activities that will create lasting memories. So pack your bags, get ready for fun in the sun, and embark on a journey that will bring your family closer together in the enchanting setting of Alanya, Turkey.
We invite you for a day of fun – action & adventure!
Aqua Park offers wonderful, healthy fun for all age-groups.
The leading waterpark in Turkish Riviera invites you to have a whole day in aquapark fun, amusement, excitement…
An unique water park with the best feelings of Turkish Riviera,  you will find the most amazing water attractions, for all ages. We invite you to enjoy the most sensationnal and refreshing summer day, surrounded by a luxuriant vegetation. You can't miss the well known Wave Pool, the children areas and Kid's Lagoon, twisting slides, no end descents, relaxing pools, crazy rivers.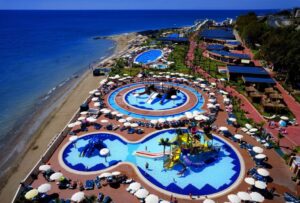 No limit for fun at the Mediterranean's favorite aquapark whether you are young or an adult.
With 2000 people daily capacity the largest aquapark of Turkish Mediterranean region invites you to fun, action and adventure. There are no limits for fun at the Mediterranean's favorite water paradise whether you are young or an adult.
You can have adventurous fun with rafting or relax with sea view from the forest or pump your adrenalin  and slides.
Family fun with the Family Slide, high speed excitement with the Kamikaze, 4 people side by side at the Multi Slide, taking you to another dimension with its special design; the Black Hole, up and down and again with the Slope Slide, Kids Slides for kids fun and many more…
Price included: Transfer from / to hotel – Guiding – Entrance fee to Aquapark,lunch.
00-06 ages Lunch not included, to be paid extra at Aquapark.
We wish you unforgettable memories during your holiday in Alanya Turkey.
Ps: For more information you can also contact by whats app call or message.
Holiday Excursion Team ,