ALANYA CATAMARAN TOUR
Sail into Adventure: Exploring Alanya's Catamaran Tour
Experience the stunning turquoise waters of the Mediterranean Sea paired with the captivating beauty of Alanya, Turkey, through an unforgettable catamaran tour. Embarking on an Alanya catamaran tour not only allows you to escape the bustling city but also offers a unique perspective of the region's stunning coastline, hidden caves, and panoramic views. In this Holiday Excursion tour, join us as we dive into the exciting world of Alanya catamaran tours and uncover the adventure that awaits.
1. Setting Sail into Paradise:
As you board the catamaran and set sail from Alanya's picturesque harbor, you'll be greeted by warm sea breezes and the promise of a day full of relaxation and exploration. The crystal-clear waters shine beneath the blazing sun, offering a glimpse into a world brimming with marine life and natural wonders.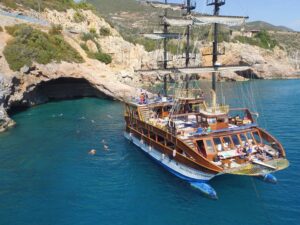 2. Discover the Coastal Splendors:
As your catamaran glides along the coastline, you'll have the opportunity to discover the hidden gems that Alanya has to offer. Marvel at the dramatic cliffs, golden sandy beaches, and secluded coves that make this region so captivating. Your knowledgeable guide will provide fascinating insights into the history, culture, and natural features of the area, enhancing your journey with intriguing facts and stories.
3. Explore the Enchanting Caves:
One of the highlights of an Alanya catamaran tour is the chance to explore the magnificent sea caves that dot the coastline. Gaze in awe as your catamaran boat effortlessly navigates through the dark caverns, revealing sparkling stalactites, shimmering turquoise waters, and enchanting rock formations. These natural wonders add a touch of mystery and wonder to your adventure, providing the perfect backdrop for memorable photographs and unforgettable experiences.
4. Dive into the Mediterranean:
Feel the allure of the Mediterranean as the boat anchors at secluded spots, inviting you to dive into the refreshing waters. Whether you're an experienced swimmer or a novice, snorkeling equipment is often provided, allowing you to witness the underwater world teeming with vibrant marine life. Swim alongside colorful fish and encounter other fascinating sea creatures, creating lasting memories of your time in Alanya.
5. Savour Delights on Board:
An Alanya catamaran tour is not just about the adventure; it's also an opportunity to savor delicious local cuisine. On many tours, a scrumptious onboard lunch or drinks are provided, allowing you to indulge in the flavors of Turkey while enjoying the scenic views. Sit back, relax, and let the flavors of the Mediterranean delight your taste buds as you take in the breathtaking surroundings.
Embarking on an Alanya catamaran tour is a chance to discover the wonders of both land and sea, allowing you to explore the stunning coastline, delight in hidden caves, and dive into the crystal-clear waters of the Mediterranean. It's an experience that blends adventure, relaxation, and cultural immersion in the coastal paradise of Alanya. So, set sail on a catamaran tour, soak in the sun, and let this memorable journey become a highlight of your time in Turkey.
,
ALANYA BOAT TRIP PROGRAM:
* Pick-up from hotels/apartments in Alanya and around
* Transport to Alanya harbor,leaving from Alanya Harbor at 10:00 o'clock
* Watching at Alanya old shipyard, Red tower from the ship,Swimming near the shipyard
* You will see pirates cave,lovers cave,phosphorous cave,cleopatra Beach
* Lunch,swimming at Ulaslar Beach,devil Cave,Swimming breaks,
* İf you are on a lucky day sometimes you can see the dolphins too.
* Back to  Alanya harbor from open sea,drop off back to your adresses in Alanya and around.
PRICE INCLUDES:
* Pick-up and drop off from hotels and apartments in Alanya,guide,lunch (Grilled chicken,3 kinds of salads, rice )
* Soft drinks(Water, Coke, Fanta, Mineral water ext.) Animations, Entertainment Foam party.
OPTIONAL EXTRAS:
* Alcohol drinks,ice-cream,photos
ADDITIONAL INFOS & TIPS:
* Changing cabins, restrooms, WC, and showers are available on our yacht.
* A few times swimming breaks are available. If you want to swim,
* You should take your swimming suit, sun cream, and beach towel with you.
* In case of seasickness, the guests are recommended to purvey relevant medicine during the tour.
We wish you unforgettable memories during your holiday in Alanya Turkey.
Ps: For more information you can also contact by whats app call or message.
Holiday Excursion Team ,