PARAGLIDING
Alanya Paragliding Adventure
Are you ready for an exhilarating adventure that takes you to the skies above Alanya? Look no further than paragliding, a popular activity that allows you to experience the breathtaking beauty of this Turkish coastal city from a unique and thrilling perspective. In this Holiday Excursion tour, we will take you on a journey through the thrilling world of Alanya paragliding, offering insights into the experience, safety measures, and the awe-inspiring landscapes you'll encounter.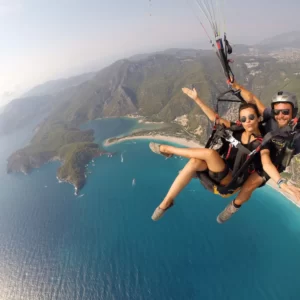 1. The Rush of Adrenaline:
As you prepare to take flight, excitement and anticipation build within you. Paragliding in Alanya offers a rush of adrenaline like no other. You'll soar through the air, suspended beneath a colorful canopy, feeling weightless as the wind carries you. The combination of speed, height, and a bird's-eye view of the natural wonders below will leave you with a surge of exhilaration and a memory to last a lifetime.
2. Safety First:
Alanya Paragliding is an adrenaline-pumping adventure, but safety is of utmost importance. Before taking off, you'll receive a comprehensive safety briefing from expert instructors. They will guide you through the necessary precautions and demonstrate how to handle the equipment. Rest assured, experienced pilots will accompany you throughout the flight, ensuring that all safety measures are followed. Alanya is known to have experienced and licensed paragliding operators who prioritize your safety and well-being.
3. Unforgettable Views:
Imagine the feeling of gliding high above Alanya's stunning coastline, with panoramic views of the turquoise waters of the Mediterranean Sea and the golden beaches stretching for miles. Alanya Paragliding offers a unique vantage point to witness the city's prominent landmarks, including the Alanya Castle perched on the hilltop, the picturesque harbor, and the surrounding Taurus Mountains. The combination of breathtaking natural beauty and ancient historical sites will take your breath away.
4. Suitable for All:
One of the great things about paragliding in Alanya is that it is suitable for people of various ages and fitness levels. No prior experience is necessary, as you'll be accompanied by experienced pilots who handle all aspects of the flight. Whether you're an adrenaline junkie seeking an adrenaline rush or simply someone who wants to try something new, paragliding in Alanya offers an accessible and unforgettable adventure for all.
5. A Truly Unforgettable Experience:
Alanya paragliding offers not only a thrilling adventure but also a sense of liberation and oneness with nature. As you glide through the sky, take a moment to soak in the peacefulness and serenity of the surroundings. The combination of adrenaline and tranquility creates an experience that leaves a lasting impression, reminding you of the beauty and vastness of the world around us.
Alanya paragliding is an absolute must for adventurers seeking an unforgettable experience in this coastal paradise. With its breathtaking views, the thrill of flight, and the safety measures in place, paragliding provides an opportunity to see Alanya from an entirely different perspective. So, strap on your harness, prepare to take flight, and let the winds carry you on an incredible journey through the skies of Alanya. Get ready to create memories that will last a lifetime and leave you with a newfound love for adventure and the beauty of nature.
Tour program;
– Pick up from hotels a brief information about flying
– Driving up to the take-off point
– Preparation of parachutes at the take off area
– Taking a few easy steps with pilot
– Sailing in the sky approximately 25 minutes
– An easy landing on the Cleopatra Beach
– Video watching photo picking and returning to the hotel
Price included:
• Pick up & drop off back from/to your hotel
• 25 minutes flight
• All equipments
• Instructions by international licenced experts
• Insurance
Price NOT included:
Food & Drinks Photos & Videos
Additional information:
Since we do not know your exact health condition, you fly at your own risk.
Of course, we fly with the most modern equipment and logically with valid licenses and insurance.
Please wear comfortable clothes and bring;
Sunglasses, Sturdy pair of shoes
Weight limits for participants;
Minimum weight : 25 kg
Maximum weight : 120 kG
We wish you unforgettable memories during your holiday in Alanya Turkey.
Ps: For more information you can also contact by whats app call or message.
Holiday Excursion Team ,