JEEP SAFARİ 
"Unleash Your Adventurous Spirit: Jeep Safari Tours in Alanya with Holiday Excursion
If you're a thrill-seeker yearning for an extraordinary experience, look no further than the exhilarating jeep safari tours in Alanya. Nestled amidst the incredible beauty of the Turkish Riviera, Alanya offers an abundance of rugged terrains and stunning landscapes to explore. Hop on board a sturdy 4×4 Jeep and get ready for an unforgettable adventure through picturesque mountains, charming villages, and hidden natural wonders. In this Holiday Excursion tour, we will take you on an unbeliavable journey, delving into the excitement and charm of jeep safari tours in Alanya.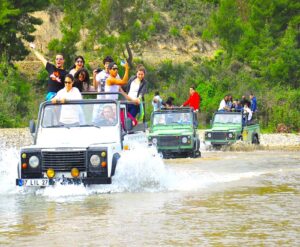 Off-Roading through Pristine Beauty:
Jeep safari tours in Alanya are the perfect way to escape the beaten path and discover the region's untamed beauty. Experience the thrill of off-roading as your skilled driver navigates through rugged terrain, taking you deep into the heart of nature. Traverse dusty trails, conquer steep slopes, and immerse yourself in the breathtaking scenery of the Taurus Mountains.
Discover Hidden Gems:
These tours offer a unique opportunity to explore hidden gems that are off the tourist radar. Venture into quaint traditional villages, where you can witness the traditional way of life and interact with friendly locals. Stop by traditional Turkish coffee houses, known as "kahvehane," to savor a cup of rich Turkish coffee and indulge in conversations about local culture and traditions.
Captivating Natural Wonders:
Alanya's jeep safari tours will take you to awe-inspiring natural wonders that leave a lasting impression. Prepare to be amazed by the enchanting beauty of the Dim Valley, known for its emerald-green river, lush vegetation, and cascading waterfalls. Dive into refreshing natural pools,simply relax under the shade of ancient plane trees.
Adventure for All:
Whether you're a seasoned adrenaline junkie or a family seeking a unique adventure, jeep safari tours in Alanya cater to all types of travelers. A variety of tour options are available, ranging from thrilling off-road excursions to more leisurely routes that offer a perfect blend of adventure and relaxation. Rest assured that safety is a top priority, as experienced guides accompany you throughout the journey, ensuring a worry-free and enjoyable experience for everyone.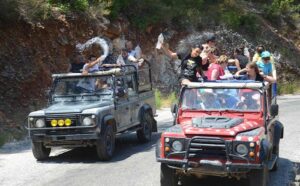 Practical Considerations:
To make the most of your jeep safari tour in Alanya, consider a few practical tips. Dress comfortably, wear sunscreen, and don't forget to bring a hat and sunglasses to protect yourself from the sun. It's advisable to carry a small backpack with essentials such as water, snacks, and a camera to capture those incredible vistas. Most tours provide pick-up and drop-off services from your accommodation, so be prepared for an early start and a full day of adventure.
Jeep safari tours in Alanya offer a thrilling escapade into the untamed beauty of the Turkish Riviera. Be prepared to embark on an off-roading adventure that will take you through rugged mountains, charming villages, and mesmerizing natural wonders. Whether you seek an adrenaline rush or a unique cultural experience, Alanya's jeep safari tours promise to deliver an unforgettable journey filled with excitement, breathtaking scenery, and memories that will last a lifetime.
ALANYA JEEP SAFARI TOUR PROGRAM:
* Picking up from hotels/apartments in Alanya by Landrover jeeps
* Joining our other safari jeeps at our station
* Starting safari and drive among the villages and fruit (orange, lemon, banana ext) gardens
* Visiting a small waterfall near Obacai river and having a photo break
* Drive up to the Taurus mountains
* Photo break on the mountain and having fantastic Alanya town view.
* Visiting Turkish village house, getting information about village life and funny entertainment
* Visiting village mosque and getting information about mosque and Islam religion
* Drive down to Dim Valley
* Photo break at the Dim Dam
* Lunch, relaxing, swimming at Dimçay River (about 2 hours)
* Visiting Dim cave (optional)
* Dropping off at your hotels & apartments in Alanya
PRICE INCLUDES:
* Pick up/drop off from hotels and apartments in Alanya
* Guid, Lunch (grilled fish or chicken, salad, rice ),(the vegetarian menu is also available)
OPTIONAL EXTRAS:
* Drinks , Photos, Dvd
ADDITIONAL INFOS & TIPS:
* Wear a suitable dress and shoes for dusty mountains
* If you want to swim in the Dimcay river, bring your swimsuit and towel
* We have a photo service but if you wish, you can bring your own camera as well.
* Alanya jeep safari tour is also suitable for families with children. They can join and enjoy the jeep safari tour peacefully.
* Our Jeep drivers are professionals with long time driving experience
We wish you unforgettable memories during your holiday in Alanya Turkey.
Ps: For more information you can also contact by whats app call or message.
Holiday Excursion Team ,