TURKISH BATH
Unveiling the Turkish Bath Experience  a Journey into Relaxation and Cultural Tradition
When visiting Turkey, one cannot miss the opportunity to indulge in the centuries-old tradition of the Turkish bath, also known as hamam. Deeply rooted in the country's culture, the Turkish bath offers a unique blend of relaxation, rejuvenation, and cultural immersion. In this Holiday Excursion tour, we will take you on a virtual tour of the Turkish bath experience, unraveling its historical significance and the myriad of benefits it offers to both body and soul.
1. A Glimpse into History:
The Turkish bath, which dates back to the Roman era, has been an integral part of Turkish culture for centuries. Inspired by the Roman bathhouses, the Turkish bath evolved with its own distinctive style and rituals, combining elements of bathing, cleansing, and socializing. By experiencing a Turkish bath, you connect with a timeless tradition and gain insights into the country's rich historical heritage.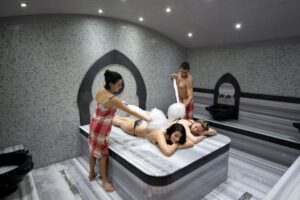 2. Turkish Bath Soaking in Serenity:
Step into a world of tranquility as you enter the traditional Ottoman-style building that houses the Turkish bath. Warm, dimly lit rooms adorned with beautiful marble and intricate tilework create an aura of serenity. The atmospheric ambiance sets the stage for relaxation, leaving the stress of the outside world behind.
3. The Turkish Bath Ritual:
The Turkish bath ritual typically involves several stages designed to cleanse and revitalize both body and mind. You will disrobe and relax in the warm steam room, allowing the heat to open your pores and prepare your body for the subsequent treatments. A skilled masseur or masseuse will then exfoliate your skin using a coarse mitt, removing dead cells and impurities. This is followed by a soothing foam massage and a refreshing rinse. The entire process is invigorating, leaving you feeling refreshed, rejuvenated, and deeply cleansed.
4. Turkish Bath Health Benefits:
Apart from the serene experience, a Turkish bath offers numerous health benefits. The steam helps to relax muscles, alleviate respiratory ailments, and detoxify the body. Exfoliation improves blood circulation and removes impurities, leaving the skin soft and glowing. The soothing massage and gentle stretching further enhance relaxation and promote overall well-being.
5. Turkish Bath Cultural Immersion:
A Turkish bath is not just about physical relaxation; it also provides an opportunity to immerse yourself in Turkish culture. During your visit, you will witness the social aspect of the bath, where locals gather to chat, unwind, and socialize. Engaging in conversations with fellow bathers or simply observing their interactions, you'll gain a deeper understanding of Turkish customs and traditions.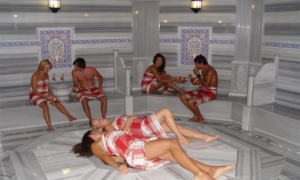 A Turkish bath tour is an enchanting journey into relaxation and cultural immersion. With its fascinating history, serene ambiance, and therapeutic benefits, the Turkish bath experience promises to transport you to a world of tranquility and rejuvenation. Whether you seek physical revitalization or a deeper connection with Turkish heritage, the Turkish bath tour offers a truly unforgettable experience that will leave you refreshed, revived, and enriched. So, indulge yourself in this ancient tradition and embark on a memorable journey for the body, mind, and soul.
PRICE INCLUDES:
* Pick-up and drop off from hotels and apartments in Alanya and around
* All hammam services (sauna, jacuzzi, steam bath, salt room, mudroom)
* Three massages package (peeling+foam+oil massage)
OPTIONAL EXTRAS:
* Drinks, Manicure, pedicure,thai massage hot stone massage.
ADDITIONAL INFO & TIPS:
* Booking available anytime between 09:00-and 19:00.
* Alanya Turkish bath package lasts about 2 and a half hours.
* If you have any health problems; regarding height humidity and hotness. Please be careful
* If you care about your (new) tan, maybe visit a hammam at the beginning of your holiday.
* We provide you lockable changing rooms, towel (peshtemal) / wrap for men, slippers (takunya)
* Bring your swimming suits
* Child prices are applicable for children aged 6-12 years. They can have massages.
We wish you unforgettable memories during your holiday in Alanya Turkey.
Ps: For more information you can also contact by whats app call or message.
Holiday Excursion Team ,