STARCRAFT PARTY BOAT TOUR
Alanya starcraft Boat Tour: Explore the Tranquil Coastline and Crystal Clear Waters
Nestled on the sparkling Turkish Riviera, Alanya delights visitors with its idyllic beaches, historic landmarks, and breathtaking natural beauty. One of the best ways to immerse yourself in the splendor of this coastal gem is by embarking on an Alanya Starcraft  boat tour. In this Holiday excursion tour, we will take you on a virtual journey, highlighting the delights and attractions of an Alanya Starcraft boat tour, from the picturesque coastline to hidden caves and captivating snorkeling spots.
Situated in the Antalya Province of Turkey, Alanya offers a perfect blend of history, culture, and natural wonders. Boasting a rich heritage dating back to ancient times, the city is characterized by its medieval fortress, known as Alanya Castle, set high on a hill overlooking the azure Mediterranean Sea. Alanya's beautiful beaches, vibrant nightlife, and delicious local cuisine make it a popular destination for travelers from all around the world.
2. Highlights of an Alanya Starcraft Boat Tour:
a) Exploring the Coastline:
Embarking on an Alanya Starcraft boat tour allows you to discover the stunning coastline, replete with hidden coves, secluded beaches, and awe-inspiring cliffs. As you sail along the crystal clear waters, you'll have the opportunity to relax on deck, bask in the warm sun, and take in the breathtaking views of Alanya's picturesque shorelin
b) Visiting Ancient Shipyard:
An Alanya Starcraft boat tour often includes a stop at the ancient shipyard, known as the Red Tower. This historical landmark dates back to the 13th century and served as a crucial naval base during the Byzantine and Ottoman periods. Visitors can explore the shipyard, learn about its fascinating history, and enjoy panoramic views of the city from atop the tower.
c) Discovering Pirate Caves:
Alanya is renowned for its captivating pirate caves, which add an element of mystery and intrigue to any boat tour. These natural caves were once said to be hiding places for pirates seeking refuge and storing their treasures. Today, visitors can explore these enchanting caves, marvel at their unique rock formations, and imagine the tales of swashbuckling adventures that unfolded within their depths.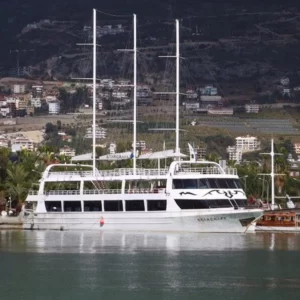 d) Swimming in the Turquoise Waters:
One of the highlights of an Alanya Starcraft boat tour is the opportunity to swim in the clear and vibrant turquoise waters of the Mediterranean. Dive beneath the surface and discover a vibrant underwater world teeming with colorful marine life and fascinating coral reefs. Swimming enthusiasts of all skill levels can enjoy this immersive experience, surrounded by the tranquility and beauty of the sea.
3. Comfort and Entertainment Onboard:
Alanya Starcraft boat tours provide comfort and entertainment to ensure a memorable experience for all passengers. Our boat is equipped with spacious sun decks, comfortable lounging areas, and onboard amenities such as bars and restaurants. Our boat also offer live music and entertainment to enhance the ambiance as you cruise along the coast.
An Alanya Starcraft boat tour promises an extraordinary adventure, allowing you to explore the stunning coastline, uncover hidden caves, and immerse yourself in the vibrant underwater world of the Mediterranean. From the ancient shipyard to the pirate caves, each stop along the way offers a unique opportunity to indulge in Alanya's rich history and natural wonders. So, grab your sunscreen, dive mask, and sense of adventure, and prepare yourself for an unforgettable journey on an Alanya boat tour.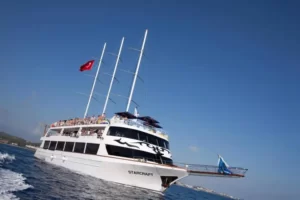 One of the best night attractions in Alanya! Welcome to an unforgettable foam party in the biggest Starcraft  Disco Boat under the Alanya castle. Wave at the sea and dance on the boat with the night view of Alanya.
Nights in Alanya are for partying and having fun until the early hours of morning on the deck of Starcraft !
Dance the night away onboard the disco boat as you sail towards Alanya Castle. Experience a unique and brilliant evening out on a boat.
Enjoy the fire show and the Foam Party on Starcraft boat as well as slurping on delicious drinks and dancing to the pounding tunes.
Your party itinerary;20:30 – 21:30: Pick-Up from Hotel/Apartment
21:30 – 22:05: Sailing to Alanya Castle
22:05 – 22:30: Fire Show
22:30 – 00:30: Dancing & Foam Party
00:30 – 01:30: Drop-Off to Hotel/Apartment
Price included:
• Pick-up and drop-off from / to hotels
• Snacks and all local drinks
Price Not Included:
• Import drinks, food, Cocktails
• Photos and Videos
• Personal expenses
Additional information:
Alanya by night is truly to be experienced!
We wish you unforgettable memories during your holiday in Alanya Turkey.
Ps: For more information you can also contact by whats app call or message.
Holiday Excursion Team ,