SAPADERE CANYON
Discover the Wonder of Nature: Sapadere Canyon Tour
Nestled in the heart of Antalya, Turkey, lies a hidden gem waiting to be explored – the captivating Sapadere Canyon. In this Holiday Excursion Tour, we invite you to join us on a virtual tour of the famous Sapadere Canyon, and delve into the unparalleled beauty and tranquility this natural wonder has to offer.
1. A Glimpse of Paradise:
Sapadere Canyon is a breathtaking natural marvel renowned for its enchanting atmosphere and untouched beauty. Away from the bustling city life, this peaceful oasis offers visitors a chance to reconnect with nature, experience a sense of serenity, and indulge in a world far removed from their daily routines.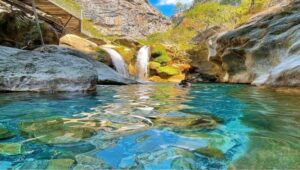 2. A Journey Through Time:
As you embark on a Sapadere Canyon tour, you'll be transported on a journey through time, where ancient geological forces have carved out a magnificent gorge over millions of years. The result is a stunning display of towering rock formations, cascading waterfalls, and lush vegetation, providing a truly awe-inspiring sight at every turn.
3. The Wonders Within:
Venturing into the depths of Sapadere Canyon, you will discover a series of mesmerizing features that make this place truly special. Walk along the winding wooden path that leads you through the heart of the canyon, allowing you to fully appreciate its grandeur and marvel at its natural wonders. Be prepared to catch glimpses of crystal-clear turquoise waters, hidden caves, and picturesque spots perfect for connecting with nature or capturing incredible photographs.
4. Refreshing Waterfalls and Swimming Opportunities:
One of the highlights of the Alanya Sapadere Canyon tour is encountering the refreshing waterfalls that cascade down the rocks. The sound of rushing water and the cooling mist create a refreshing oasis within the canyon, inviting visitors to take a break and relish the beauty surrounding them. A swim in the pristine pools beneath the waterfalls is a memorable experience, providing a chance to refresh and rejuvenate yourself in the midst of this enchanting setting.
5. Immersing in Local Culture:
Aside from its natural splendor, a visit to Alanya Sapadere Canyon also offers an opportunity to immerse yourself in the local culture and traditions of the region. Visit the nearby village of Sapadere, meet friendly locals, and witness traditional village life. Sample local cuisine, engage in conversations, and embrace the warm hospitality of the people, fostering a deeper connection to the place and its heritage.
A journey to Alanya Sapadere Canyon is an invitation to explore the wonders of nature and immerse yourself in a serene and breathtaking environment. This hidden paradise showcases the raw beauty of Antalya, Turkey, offering visitors an escape from the ordinary and a chance to reconnect with the natural world. With its stunning rock formations, cascading waterfalls, and tranquil atmosphere, Sapadere Canyon is a destination that leaves a lasting impression and continues to captivate the hearts of all who venture into its depths. So, get ready to embark on a Sapadere Canyon tour, and prepare to be amazed by the sheer magnificence that nature has to offer.
PRICE INCLUDED:
Pick-up and drop off at your hotel
Guidance
Lunch (Grilled fish or chicken,salads,macaroni or rice)
Transportation option by comfortable air-conditioned minibus or 4×4 Land Rover Jeep
Sapadere Canyon enterance
 PRICE NOT INCLUDED:
Drinks
Cave entrance (optional and 3 €)
 ADDITIONAL INFO & TIPS:
We are happy to accept your payment in cash on the bus & jeep to our tour guide,
You can bring your swimming suit.
We wish you unforgettable memories during your holiday in Alanya Turkey.
Ps: For more information you can also contact by whats app call or message.
Holiday Excursion Team ,