Dolphin show in Alanya
   A Mesmerizing Experience: Witness the Astonishing Alanya Dolphin Show
Prepare to be captivated by the incredible intelligence and agility of dolphins as you experience the Alanya Dolphin Show. Nestled on Turkey's picturesque Mediterranean coast, the show promises to take you on a captivating journey into the underwater world of these magnificent creatures. Join us as we explore the highlights and wonder of the Alanya Dolphin Show.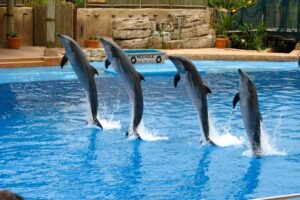 1. The Delight of Dolphin Performances:
Be prepared to be amazed as the highly trained dolphins showcase their talents and abilities in a series of captivating performances. Witness their incredible acrobatics, synchronized swimming, and playful interactions with their trainers. The Alanya Dolphin Show offers a delightful spectacle that is both entertaining and awe-inspiring, leaving audiences of all ages in sheer amazement.
2. Educational Insights into Dolphin Behavior:
Beyond the entertaining performances, the Alanya Dolphin Show also provides educational insights into the behavior and intelligence of dolphins. Learn about their natural habitats, social structures, and the importance of conservation efforts to protect these remarkable creatures. Through informative commentary, the show aims to raise awareness about the need for responsible eco-tourism and the preservation of marine life.
3. Unforgettable Interactions:
For those seeking a more interactive experience, the Alanya Dolphin Show offers unique opportunities to get up close and personal with these extraordinary creatures. Depending on the venue, you may have the chance to swim with dolphins, pose for photos, or even have a chance to feed them. These interactions create lifelong memories and allow you to have a deeper appreciation for these incredible animals.
4. Family-Friendly Entertainment:
The Alanya Dolphin Show is an ideal family-friendly activity, providing entertainment for visitors of all ages. Children and adults alike will be captivated by the playful nature and intelligence of the dolphins. Witnessing these incredible creatures in action is not only enjoyable but also educational. It's an experience that will leave a lasting impression on the entire family.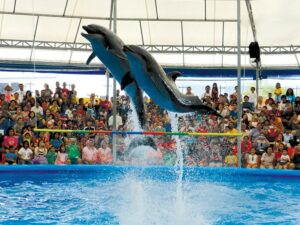 5. Stunning Venue and Professional Presentation:
The Alanya Dolphin Show takes place in a world-class venue that offers modern facilities and comfortable seating. With state-of-the-art sound and lighting systems, the show provides a professionally presented experience that enhances the overall enjoyment. Sit back and relax as you immerse yourself in the magical world of dolphins and marvel at their incredible abilities.
The Alanya Dolphin Show offers a mesmerizing experience that brings you closer to the remarkable world of dolphins. From thrilling performances to educational insights, the show provides entertainment for all ages while promoting the importance of marine conservation. Whether you're seeking awe-inspiring acrobatics, interactive and educational experiences, or simply a fun family outing, the Alanya Dolphin Show delivers an unforgettable experience. Prepare to be fascinated and enchanted by the beauty and intelligence of these extraordinary creatures, leaving you with memories to treasure for a lifetime.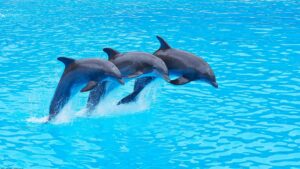 Alanya dolphin show in Sealanya Dolphinpark is organized twice a day.
              Morning group: Pick up: 09:00  Returns: 12:00
                Afternoon group: Pick up :14:00 Returns:17:00
ALANYA DOLPHIN SHOW TOUR PROGRAM:
* Picking up from hotels/apartments in Alanya and around
* Arrive at Sealanya dolphin park
* Dolphin & Sea lions show
* Dropping off at hotels/apartments in Alanya and around
PRICE INCLUDES:
* Picking up and dropping off from hotels/apartments in Alanya and around
* Tour guide
* Dolphin & Sea lions show (about one hour)
OPTIONAL EXTRAS:
 * Swimming with dolphins  120 € for 1 person reservation needed.
* Personal expenses like drinks, foods ext. at the park
* Photos with dolphins taken by photographers
ADDITIONAL INFOS & TIPS :
* If you want to only swim with dolphins, you can just book Swimming with dolphins tour in Alanya costing only 120€ with a free transfer service.
* Children under 3 years old aren't allowed to swim with dolphins.
* Children 4-6 years old must be accompanied by an adult.
* You must book your swimming session in advance ( busy in the season).
The price includes transfer, entry ticket, insurance.
We wish you unforgettable memories during your holiday in Alanya Turkey.
Ps: For more information you can also contact by whats app call or message.
Holiday Excursion Team ,