SALDA LAKE PAMUKKALE TOUR
Enchanting Wonders: Unveiling the Salda Lake and Pamukkale Tour
Embark on a captivating journey to witness two of Turkey's most mesmerizing natural wonders   Salda Lake and Pamukkale. This tour will take you through the stunning landscapes of southwestern Turkey, where you will be left awe-struck by the pure turquoise waters of Salda Lake and the remarkable terraced travertine pools of Pamukkale. Join us as we explore the highlights and experiences that await you on this enchanting tour.
1. Salda Lake pamukkale : The Turkish Maldives:
Known as the "Turkish Maldives," Salda Lake is a hidden gem nestled amidst breathtaking natural beauty. With its crystal-clear turquoise waters, powdery white sandy beaches, and picturesque surroundings, this stunning lake offers a unique and tranquil experience. Immerse yourself in the refreshing water, relax on the pristine shores, and capture Instagram-worthy photos of the surreal landscapes. Discover the awe-inspiring beauty of Salda Lake, a true paradise that will leave you mesmerized.
2. Salda Lake Pamukkale: A Natural Wonderland:
Prepare to be captivated by Pamukkale, often referred to as the "Cotton Castle." This UNESCO World Heritage Site boasts terraced travertine pools filled with thermal waters, creating a surreal spectacle. As you ascend the terraces, marvel at the stunning white formations while enjoying the warm and healing mineral-rich waters. The surreal sight of cascading pools against a backdrop of greenery is truly a sight to behold. Pamukkale also offers the opportunity to explore the ancient city of Hierapolis, where you can uncover ancient ruins and learn about its historical significance.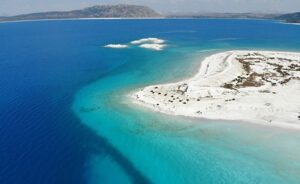 3. Salda lake Pamukkale Thermal Baths and Pampering:
Indulge in the rejuvenating and therapeutic properties of the thermal waters in Pamukkale. Known for their healing benefits, these naturally warmed mineral-rich waters offer an unforgettable bathing experience. Pamukkale's thermal baths provide a unique opportunity to relax and rejuvenate while surrounded by stunning natural beauty. Imagine soaking in the warm waters, replenishing your body, and feeling all your stress melt away.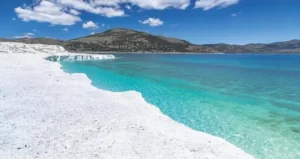 4. Salda Lake Pamukkale tour Guided Expertise and Comfort:
The Salda Lake Pamukkale tour offers the expertise of experienced guides who are well-versed in the history, culture, and natural wonders of the region. They will accompany you throughout the tour, providing insightful commentary and ensuring your comfort and safety. Their knowledge and passion for the destinations will greatly enhance your understanding and appreciation of the tour's highlights, allowing you to fully immerse yourself in the wonders of Salda Lake and Pamukkale.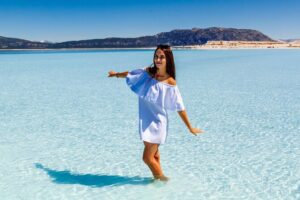 5. Nature's Spectacular Contrast:
The Salda Lake Pamukkale tour provides a unique contrast between two stunning natural wonders. From the pristine turquoise waters and sandy shores of Salda Lake, you will find yourself immersed in a peaceful and serene environment. As you move to Pamukkale, the dramatic terraced pools and ancient ruins create a dynamic and awe-inspiring atmosphere. This tour allows you to witness the remarkable diversity of natural beauty that Turkey has to offer.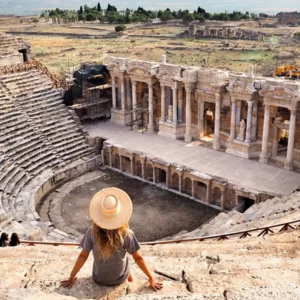 The Salda Lake Pamukkale tour promises to leave you in awe of Turkey's magnificent natural wonders. From the surreal landscapes and turquoise waters of Salda Lake to the terraced travertine pools of Pamukkale, this tour will take you on an enchanting journey through breathtaking landscapes. With expert guides by your side, you will gain a deeper understanding of the historical and cultural significance of these remarkable destinations. Prepare to embark on an unforgettable adventure that will leave you with memories to cherish for a lifetime.
SALDA LAKE PAMUKKALE TOUR PROGRAM:
* Pick-up from hotels & apartments in Alanya and around
* Drive towards Pamukkale via Denizli city,Breakfast
* Comfort break, Arrive in Pamukkale (about 10:00 o'clock)
* Visit the ancient city of Hierapolis and the necropolis (approx one hour)
* Visit the Pamukkale (Cotton Castle) limestone terraces then enjoy free time (approx 3 hours)
* Lunch Visit Salda lake. Enjoy some free time to explore (approx one hour)
* Dinner,Return trip towards Antalya over the Taurus mountain
* Drop off at hotels & apartments in Alanya (23:30-24:00)
PRICE INCLUDES:
* Pick up/drop off from hotels and apartments in Alanya
* Guide,Breakfast,Lunch,Dinner
* Entrance fees to Pamukkale, Hierapolis antique city, and Salda lake
OPTIONAL EXTRAS:
* Personel expenses
* Swimming in Cleopatra's thermal pool (11€)
ADDITIONAL INFO & TIPS:
• It is allowed to swim and walk in the Pamukkale terraces.
Wear a comfortable outfit and shoes
* İf you want to get into the water in Pamukkale's thermal pools or Cleopatra pool , take your swimming suites, towels, and sun cream with you.
• Looking, walking, and taking photos at the Cleopatra pool is free of charge. Just swimming in the pool is an optional extra.
The price includes transfer, insurance, lunch and service guide tour.
Available from Antalya,Alanya,Side,Manavgat,Belek. For exact pick up times please contact with us.
We wish you unforgettable memories during your holiday in Alanya Turkey.
Ps: For more information you can also contact by whats app call or message.
Holiday Excursion Team ,