Quad Safari tours
Exploring the Natural Beauty of Alanya on a Quad Safari Tour
Alanya, located on the southern coast of  Antalya Turkey, is a destination known for its stunning land scapes, turquoise waters, and rich cultural heritage. While there are various ways to explore this beautiful region, a quad safari tour offers a unique and exhilarating experience that allows you to delve into nature and discover hidden gems off the beaten path. In this Quad biking tour with Holiday Excursion travel agency, we will uncover the wonders of Alanya through the lens of a quad safari tour, highlighting the thrill, adventure, and natural beauty that awaits.
1. The Thrill of Quad biking:
Embarking on a quad safari tour in Alanya provides an adrenaline-pumping adventure that is perfect for thrill-seekers. Riding a quad bike allows you to navigate rugged terrains, conquer challenging trails, and experience the true spirit of off-road exploration. Whether you are a seasoned rider or a beginner, the quad bikes are easy to handle, making it accessible for anyone eager to embrace the excitement of an off-road adventure.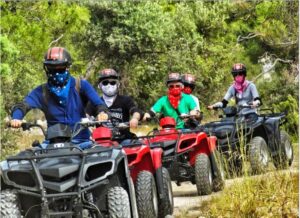 2. Unleashing the Explorer Within:
Alanya is blessed with a diverse and awe-inspiring natural landscape. A quad safari tour gives you the opportunity to leave the confines of traditional tourist attractions and venture into the heart of Alanya's stunning countryside. As you ride through mountains, forests, and rural villages, you will witness breathtaking panoramic views and encounter pristine landscapes that are often inaccessible to typical sightseers.
3. Off the Beaten Path Excursions:
One of the key advantages of a quad safari tour is the ability to access remote areas and secret spots. Escape the crowds and immerse yourself in the untouched beauty of Alanya's hidden treasures. Whizz through picturesque olive groves, traverse narrow dirt paths, and discover secluded coves with crystal-clear waters. With a knowledgeable guide leading the way, you can uncover the region's best-kept secrets and create unforgettable memories.
4. Embracing Serenity and Natural Beauty:
Alanya's natural beauty is awe-inspiring, and a quad safari tour allows you to fully immerse yourself in its splendor. Traverse valleys adorned with vibrant flora and fauna, witness cascading waterfalls that offer a refreshing respite, and meander along rivers and streams that snake through the enchanting landscape. At each turn, you'll encounter breathtaking vistas that will take your breath away, providing ample opportunities to capture unforgettable photographs.
5. Experiencing Local Hospitality:
Quad safari tours often include stops at local villages, allowing you to experience the warmth and hospitality of the Alanya region. Interact with locals, learn about their customs and traditions, and savor various traditional delicacies. This aspect of the tour not only enhances your understanding of the local culture but also provides a deeper connection to the places you visit.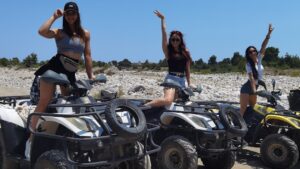 A quad safari tour in Alanya takes you on a thrilling and memorable adventure through the region's natural wonders. It offers an escape from the usual tourist spots and allows you to immerse yourself in the raw and untouched beauty of the countryside. From breathtaking vistas to hidden gems, a quad safari tour provides an unforgettable experience that combines adrenaline, exploration, and awe-inspiring natural beauty. So, gear up, hop on a quad bike, and let the stunning landscapes of Alanya take you on an unforgettable journey of discovery.
Ride your very own quad bike through the largest moving mud and dust mass in Southern Turkey. Spend over 2 exhilarating hours driving through the forests, deep valleys and water streams of the Taurus Mountains.
Enjoy the newest and most adrenaline full way to explore the Taurus Mountains by jumping on a quad (ATV) bike. Ride your very own ultimate fun machine, through the largest moving mud and dust mass in the Southern Turkey with our Quad bike tours from Alanya, Side, Belek, Antalya & Kemer.
You will spend over two hours exploring the natural environment and learn about many historical sights from our friendly and professional tour guide, aboard of your ATV bike. You will ride your quad bike through magnificent nature, pine forests, and muddy streams for a unique experience of the Taurus Mountains. The deciduous and coniferous trees, deep valleys, water streams and waterfalls make the Taurus Mountains a site of incomparable beauty.
You don't need to have any previous experience of riding a quad bike or own a driving license. After just a short tutorial and a little practice, you will be ready to safely take off on this adrenaline-fuelled rush of a lifetime!
Price included:
Pick-up and drop-off from / to hotels.
Guiding
Quad bike tour lasting about 2,5 hours (22 – 27 km)
Price NOT included:
Food, drinks and personal expenses.
Photos and Videos.
Face mask (anti-dust).
Additional information:
Our Quad bike tour is available for those aged 16 years and up. If you are under 16 you can participate in our Quad bike tour session but as a passenger and you must be accompanied by parents or a guardian. Also children under 11 can participate on the passenger seat under the responsibility of parents.
Each Quad tour session lasts for approximately 2 hours*
The 2-hour time includes breaks for swimming and photography.
We wish you unforgettable memories during your holiday in Alanya Turkey.
Ps: For more information you can also contact by whats app call or message.
Holiday Excursion Team ,